Welcome to Practical Advice for Artists
Practical, accessible online courses to help artists build and sustain successful careers.
FREE COURSES UNTIL FURTHER NOTICE:
To help any members of our community looking for productive solitary activities during these challenging times, we are offering our courses "The 7 Simple Statements Successful Artists Live By" and "Social Media Strategy for Artists" FREE of charge until further notice. We hope these courses, in particular, are helpful and inspiring right now. Just click on the course below to enroll. Our "Six Steps for Successful Studio Visits" course is always FREE. For any other courses, use the code BEWELL at check out for 50% off.
Also available, from Amazon:
Launching Your Art Career: A Practical Guide for Artists
Written by a gallerist for artists, this no nonsense, easy-to-read handbook includes advice, information and encouragement to help artists successfully launch, relaunch or refocus their careers. Includes additional advice from over 40 artists and arts professionals.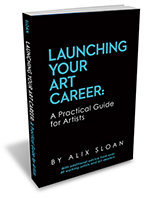 $7.99 Kindle. $12.99 Paperback.
Additional Resources:
And please visit the Practical Advice for Artists website
where you'll find free checklists and worksheets,
and links to additional resources for artists.